Opening Day!
Head to Missouri's Hidden Gem for opening day!
Join us for our first day of our 40th Anniversary! Ski and shred your way back into winter at our opening day.
Welcome back to Winter
Opening Day Details
'Tis the Ski-son!
Hidden Valley will open for its 40th season on Sunday, Dec 25. Lifts spin 3 pm – 9 pm.
I want to extend my gratitude to the team; I appreciate your hard work to get us ready to officially kick-off our 40th anniversary celebration!
Opening Weekend and Holiday Hours:
Sunday, Dec. 25, 3pm-9pm
Monday, Dec. 26 – Thursday, Dec. 29: 9am-9pm
Friday, Dec. 30 – Saturday Dec. 31: 9am-10pm
Sunday, Jan. 1: 9am-8pm
Our opening package will include everything East of Lewis & Clark.
Lifts: Gateway, Ozark, Lewis & Clark, East Mtn, Carpet, and Rope Tow.
Runs: Show Me, Eureka, Easy Street, Slow Poke, Skid Row, Lauren's Lane, Missi's Wish, Josh's Jaunt, and a small pop-up terrain park on Berry's Butte. (This is while we get Badlands ready for the season.)
Tubing is not ready to open. We will announce an opening date for tubing as soon as we can (tubing takes a lot of snow!)
Important Details to Prep for Arrival
Lift Tickets and Passes

:
Ticket office will be open at 2pm on Dec. 25, and 30 minutes before lifts start spinning every day through the season. If you don't have a season pass, we suggest purchasing your lift ticket online in advance (and save $5). Bring your media card from last season! We can reload for you, or you can reload in advance before arriving.
Equipment:
Rental equipment is best to book in advance, online. Buy online, and head straight to rental!
Lessons:
Limited group and private lessons are available starting Monday, Dec. 26. Please book your group lessons in advance, and reservations are required for all private lessons, which you can request online.
Dining:
The Main Lodge cafeteria and bar are back featuring a new menu.
Be sure to download the EpicMix app to check important operations alerts, and real time lift and terrain status, to help you make the most of your day.
On behalf of myself and the team, welcome back to Hidden Valley. See you soon!
Tony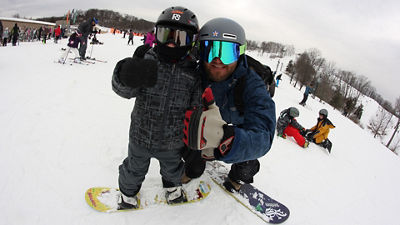 Join us for our opening day! Ski and shred your way back into winter for our 40th Anniversary.
Skiing & Riding are awesome enough, but join us for a few extras!
First Chair Banner Break!
Cookies & Hot Chocolate! Stop by the table at the front of the lodge when you arrive for a complimentary treat. Available 8:30am to 11am, or while supplies last.
Rock out with family! Enjoy some tunes in the base area all day long.
And don't forget to grab yourself a complimentary Nature Valley bar to have as a pocket snack for later.
Enjoy the snow, enjoy the fun. Welcome to Winter!