Experience the thrills of our new ZipTour as you explore Hidden Valley from a completely different perspective! A fun and family-friendly adventure await on our unique zip line that features side-by-side cables on each span and a trolley that lets you independently control your speed.
Each tour is guided by certified staff who will be with you every step of the way. Each program features spans ranging from 300' to 2800'. Linking the spans are a series of hiking trails ranging from winding level pathways to steeper rocky inclines. We ask that guests be prepared for all manner of terrain as they complete the tour over and across our 250-acre property.
Program Details:
The Valley Tour - $55.00 +tax
This Three-Span tour offers guests a guided tour around West Mountain, offering extensive treetop views of the surrounding valley. Guests will take one trip up the Gateway chairlift and will ride on three of our Ziplines ─ Greenhorn, Gloria, and Expedition ─ with a fair bit of hiking in-between. This three-span tour takes between 1.5-2.5 hours to complete.
The Scenic Route - $70.00 +tax
This Four-Span tour offers an extended excursion, covering both the West Mountain portion and adding extra speed for the thrillseekers in your family! Included is a second trip up Gateway lift, unparalleled views of the St. Louis area with glimpses of the Gateway Arch and St. Louis skyline, as well as a trip down our fastest Zipline ─ Skyline ─ before returning you to the lodge. This four-span tour takes between 2-3 hours to complete.
Rules & Requirements:
Must be at least 10 years of age
Riders between 10 and 15 years must have an adult* on the tour
Riders must weigh between 50 lbs and 260 lbs
Must be between 48"- 82" tall to ride
Shirt and close-toed shoes required
No sandals or open-back shoes
Every participant must fill out a liability release. A parent/guardian must sign a release for participants under the age of 18
*Adult being 18 years or older.
Advisory: ZipTour is an inherently strenuous activity. Portions of our course include hiking on steep upward terrain. Guests are expected to walk all portions of the course unassisted. This includes inclines, steps, stairs, and various pathways for upwards of 500 yards.
Have a group of 15 people or more looking for a fun family reunion, birthday party, or corporate outings; learn more about our group options.
Years Old

Inches Tall

lbs

Footwear
Previous tab
Previous tab
Check out the map to see just where the tour takes you!
Greenhorn:
305' in Length
Located on East Mountain
Gloria:
1631' in Length
Top of Gateway Chairlift to the Top of West Mountain
Expedition:
2806' in Length
Top of West Mountain to Behind our Snowmaking Ponds
Skyline:
1497' in Length
Top of Gateway Ski Trail to the bottom of the very bottom of our resort!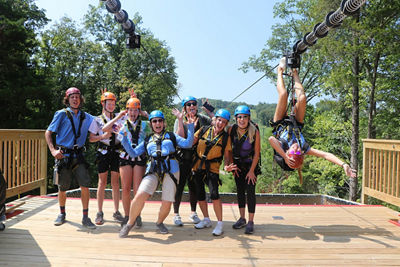 ZipTour Groups
Have a group of 15 people or more? Family reunions, birthday parties, school groups, corporate outings or friends! Want a way to get outside, experience nature, and have fun? Why not bring a group to go on a ZipTour at Hidden Valley? Our ZipTour Experience is great for team building and growing camaraderie within your group or organization!
Group Rates are available for 15 or more people.
Group Reservations must be made in advance through our group sales team in order to receive discounts.
A single payment will be collected from the event organizer prior to the visit. (No multiple payments accepted)
Tax-Exempt products are only offered through our group-sales program, and must be requested in advance.
Partial course packages are only offered through our group-sales program, and additional rules may apply.
Information and rates subject to change.
Let us help you with your outing!
Email us at skihiddenvalley@vailresorts.com and our team can assist. In order to provide an accurate quote, we will require an estimate of the number of guests you intend to bring, as well as your preferred date/time.