Previous tab
Previous tab
What To Expect
Prep For The Lesson

Best pricing is available online, in advance. To book a group lesson within 24 hours or a private lesson within 48 hours, please visit one of our Ski & Snowboard sales locations or call ahead. Our cancellation policy is available here. Make sure all members of your group have a pass or tickets and rent gear if needed.




Early Is On Time

Arrive 30 minutes before the lesson to allow time for check-in. If you or your child are picking up rental gear, arrive 60 minutes early.

Check-In For The Day

Check-in for the lesson at the location or base area you selected while booking.

Meet Our World-Class Instructors

All group lessons will be sorted by ability level and child lessons will be sorted by age. The instructor will determine a plan for the day based on individual needs or group goals.

CONQUER THE MOUNTAIN

World-class instructors will help all participants have fun exploring more of the mountain by practicing new techniques at their own pace. All Full Day lessons will include a break for lunch, with food provided only for child lessons. Half Day and Bundled AM / PM lessons will not include lunch.

PICK UP YOUR ADVENTURER

If you are dropping off a child, make sure to confirm location and pick-up time. The instructor will provide a summary of their lesson and your child's pass at pick-up.
Gratuities: Instructor gratuity is at your discretion. Please note, a 15-20% gratuity based on the cost of the lesson will make your instructor feel very appreciated and valued.
What To Bring
Face covering: Face coverings will be required for all Ski & Ride School participants.
Helmet: The use of helmets is strongly recommended. Children age 14 and under must wear a winter sport protective helmet while participating in ski & ride school, subject to local regulations. In addition, children and teens under age 18 who participate in designated children's classes or programs must wear a helmet. Rental helmets are available at our children's ski school locations for your convenience.
Warm clothes including water-resistant outerwear, warm calf-high socks, and gloves or mittens.
Goggles or sunglasses
Sunscreen is recommended, even on cloudy days.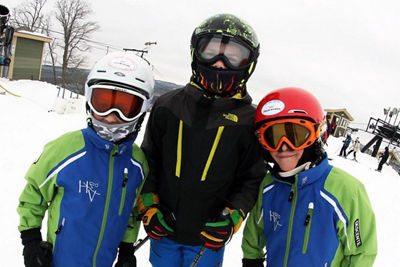 Where To Go
When you first arrive, you'll need to visit the Ski and Ride School tent to collect your lesson packet. This lesson packet will contain lift tickets, parent contact tags, and rental forms for all lesson participants.

The Ski and Ride School tent is located in front of the main lodge, to the left of the SnowCat.

Please head directly to the Ski and Ride School tent, bypassing the main lodge ticket lines.

You MUST visit the Ski and Ride School tent before heading to rentals.

If you have a minor in a lesson, please review the Child Sickness Policy.

If you are renting equipment, you will need to pick it up before your lesson, please arrive at least an hour before the start of your lesson to ensure you don't miss your start time.

After visiting the Ski and Ride School tent you'll be taken to a dedicated line through rental.
After gearing up, please check-in on the snow surface at least 30 minutes before the start of your lesson. If you arrive late and cannot complete check-in prior to the check-in end time, we may not be able to accommodate you in a lesson for that day.

Pro Tip! Look for the blue flags indicating Ski and Ride School!
Frequently Asked Questions (FAQS)