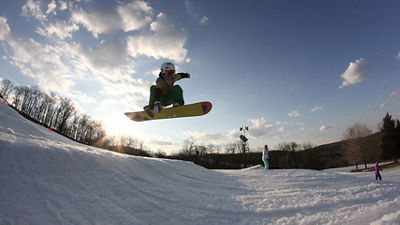 Badlands Park
Located on the main mountain, The Badlands is our beginner terrain park featuring a variety of features for everyone.
From those just learning to an experienced park rider wanting to dial in a new trick, The Badlands is the place to start.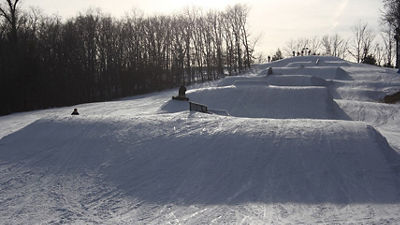 OUTLAW TERRAIN PARK
Outlaw Terrain Park is Hidden Valley's signature terrain park. Located on West Mountain, Outlaw Terrain Park flows from top to bottom with rails, jumps and jibs ranging from medium to large sizes.
Typically open by early January, Outlaw Terrain Park is the place to progress and throw down your best line.
SMART STYLE
TERRAIN PARK SAFETY
The National Ski Area Association and Burton Snowboards would like to welcome you to the "Smart Style" Terrain Park Safety initiative. This venture has been a cooperative effort to continue the proper use and progression of terrain parks at mountain resorts while delivering a unified message that is clear, concise, and effective. The more people we can educate and get involved to help spread the word, the better.
There are four main messages that as associated with Smart Style:
Make a Plan: Every time you use freestyle terrain, make a plan for each feature you want to use. Your speed, approach, and take off will directly affect your maneuver and landing.
Look Before you Leap: Scope around the jumps first, not over them. Know your landings are clear and clear yourself our of the landing area.
Easy Style It: Start small and work your way up. (Inverted aerials not recommended!)
Respect Gets Respect: From the lift line through the park.
Launching Winter 23/24
Take an Epic expert with you wherever you go on the mountain. My Epic app provides you:
Mobile Pass & Lift ticket
Interactive trail maps, with trail and grooming status
Real-time weather, snow totals and mountain cams
Your on-mountain GPS location and stat tracking
Resort updates and safety information
And more!
Reach New Heights at Hidden Valley