Tips For You
First Timer's Guide
Everyone learns at different paces. It is important to keep your expectations reasonable. This way both you and your children will have a successful and rewarding experience on the snow.
THE ULTIMATE HIDDEN VALLEY GUIDE
WHAT TO WEAR
We are excited to welcome you and even more excited that you are trying a new activity.
One of the best ways to ensure a positive experience is to dress appropriately. Staying warm and dry will help keep you comfortable, safe, and having fun!
Dress in layers! You can add or remove as needed.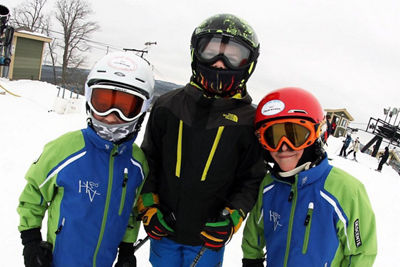 Base Layers: This is the layer that will lay closest to your skin and provide insulation. Wool or synthetic fabric is recommended. Cotton is not ideal. A thin pants layer on the bottom and form-fitting long-sleeves on top.
Mid-Layers: The second layer is your mid-layer. An insulator jacket or fleece is a standard mid-layer because it is appreciated for its warmth and comfort.
Outer Layers: This is the layer that will help keep you dry and protect against wind. You will want a waterproof jacket.
Snow Pants: Similar to the outer layer on top, a waterproof outer layer on the bottom is key to staying dry and warm. Insulated pants are recommended.
Socks: Thin, warm, and long, well-fitting socks are key! This is insulation for your foot and calf under your boot. Wool or synthetic fabric is recommended to help wick sweat and moisture away. Cotton is not ideal.
Pro Tip: Wear only ONE pair of socks! Extra socks will over-crowd the boot, restrict blood circulation, and won't help keep you warm.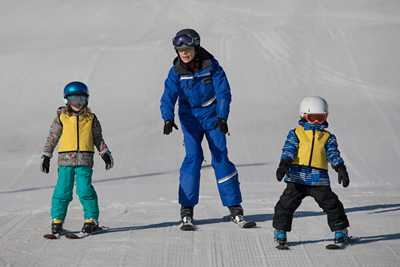 Gloves or mittens: Waterproof gloves or mittens are a must on the hill. Go with something insulated or find a thin glove liner to wear as a base.
Goggles or sunglasses: On a warmer and sunnier day, sunglasses will work fine. On colder, snowier days or at night we recommend goggles to protect your eyes.
Winter Sports Helmet: Not only will a helmet keep your head safe, it will also keep you warmer than a hat will! Helmets are required for all lessons. If you don't have a helmet, we rent them!
Pro Tip: On especially cold days, a thin beanie under your helmet will help keep you even warmer. Nothing bulky or with poms or the helmet won't fit properly.
Sun protection: Even when it is overcast, it is important to protect any exposed skin from the sun. Remember to reapply every 2 hours!
Change of clothes: In case your clothing gets wet or you want a warm set of clothing to change into after your lesson.
Neck warmer: Recommended in colder temps. You can purchase one, along with other cold weather items, in the Retail Shop.
Snacks: Make sure you have the energy to be great out there! Our dining options have a wide selection of snacks that are great to sit down and eat, or throw in a pocket and have out on the slopes! Learn more about dining options.
RESORT LANGUAGE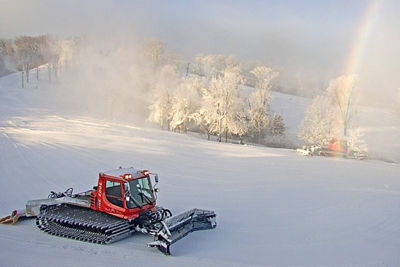 Trail Markers
Green Circle: The easiest trails on a mountain, denoted on trail maps and signs by a green circle. Usually groomed, wide and flat, and not a place for experienced skiers as traffic must remain slow.
Blue Square: Intermediate trail denoted on trail maps and signs by a blue square. Usually groomed and often the most popular runs.
Black Diamond: Expert trail denoted on trail maps and signs by a black diamond. The trail may or may not be groomed, and can vary from the merely tricky to insanely difficult. A double black diamond indicates the steepest, most difficult runs at a resort.
Lifts & Tickets
Lift Ticket: Ticket required for all on-hill ski & snowboard access. Lift tickets can be purchased online or at the ticket office and are non-transferrable.
Ticket Scanner: Employee at the base area of the hill that will scan your ticket before you access the hill.
Carpet Lift or Magic Carpet: Surface lift similar to a conveyor belt built into the ground. Walk onto this lift, stand still with skis or snowboard pointing forward while lift moves you to the top.
Rope Tow: A form of surface lift that utilizes a constantly moving rope. Point skis or snowboard straight uphill, grab rope tightly and allow rope to pull you uphill as you stand on your skis or snowboard.
Grooming & Snowmaking
Grooming, groomer or groomed terrain: The most common form of trail maintenance, done to spread new snow and to smooth over bumps, icy patches and other obstacles. To groom, tractors known as Snowcats drag giant rakes over the snow.
Snowcat: A large vehicle capable of moving on snow. Most commonly used to move snow around the hill and groom terrain. At Hidden Valley, we do not operate snowcats while we are open to the public.
Snow gun: A device used to make man-made snow by forcing water and pressurized air through a cannon-like machine.
Terrain Parks
Terrain Park: A freestyle zone roped off from other downhill runs and filled with jumps, rails, fun boxes, and other assorted obstacles. Parks can also include a halfpipe and boardercross run.
Moguls: Bumps carved into the snow; typically they are created by the turns of skiers, but they can also be carved out for perfectly shaped mogul field. Generally for intermediate to advanced skiers.
More Beginner Terms
Balaclava: A facemask worn to cover exposed skin. Helpful in colder temperatures.
Pizza/French Fries: Slang term for an elementary skiing technique where skis are tilted together like a slice of pizza to snowplow down a slope or parallel, side by side like a French fry.
Ski Patrol: Trained skiers and snowboarders responsible for slope safety, including marking dangerous obstacles on/near a trail, and assisting or even carting injured riders down a mountain.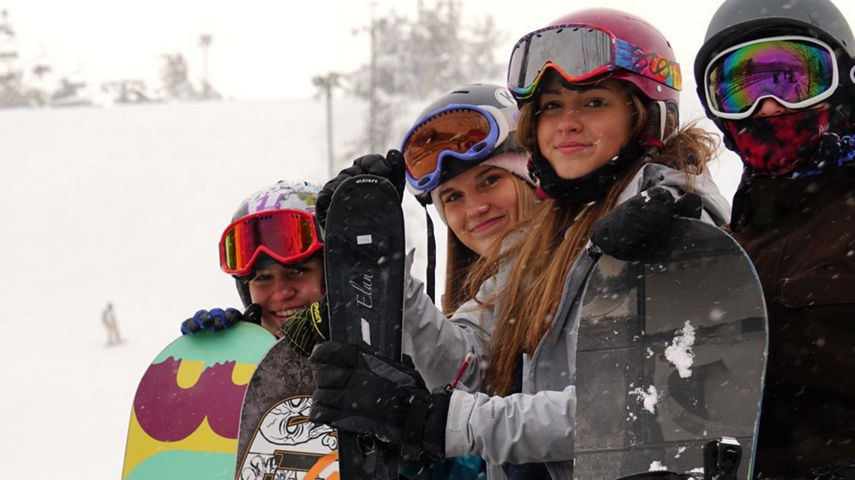 Rent Online and Save!
Experience Hidden Valley with a more convenient way to rent equipment. Hidden Valley offers online rental bookings this season, saving you both time and money. Book your rentals today!
Previous tab
Previous tab
How To Ski Part 1
How to Put on Ski Boots | Parts of a Ski | Getting In and Out of Skis | Tips to Carry Skis
How To Ski Part 2
First Movements on Snow | Side Step & Duck Walking | How to Get Up
How To Ski Part 3
How to Turn | How to Stop | How to Load a Chairlift
How To Snowboard Part 1
How to Put on Boots | Parts of Snowboard & How to Get In | Snowboard Stance | Tips to Carry Snowboard
How to Snowboard Part 2
How to Skate & Glide | How to Stand from Sitting | How to Climb Uphill
How To Snowboard Part 3
How to Stop | How to Turn | How to Ride Chairlift